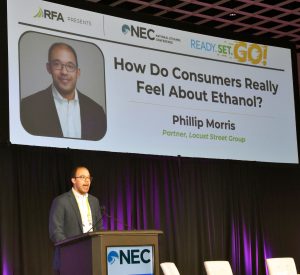 The Renewable Fuels Association revealed the results of its latest consumer focus group research at the recent National Ethanol Conference.
Phillip Morris of the Locust Street Group conducted a round of focus groups for RFA in late January with consumers in Ohio, Florida and California. This was the third time this research has been conducted for RFA, previously in 2019 and 2021, which Morris says provides them with perspective to see changing attitudes and trends. "I think this round of research, we've seen some of the most notable shifts in consumer attitudes toward ethanol than we've seen to date," said Morris.
Among the shifts was awareness of ethanol in gasoline. "When we've conducted this in years past, we had very few folks in our focus groups tell us that they were even aware that ethanol was in their gas tank," said Morris. "That was not the case this time."
This time, record high gas prices made a difference. "In a time of higher than usual gas prices, folks are more conscious than ever of what they're putting in their gas tank and that is driving greater awareness of the role that ethanol plays," Morris said.
For the first year, the research included questions about electric vehicles, and Morris says they found many believe EV adoption will occur within the next 50 years but they are concerned about how it can be achieved. "However, within the next 15 years, the vast majority said they think there will still be a mix of liquid fueled and electric vehicles on our roads," said Morris.
Morris said they found strong opposition to any state or local initiatives to ban the sale of new gas-powered vehicles. "They do not want government forcing them to choose one vehicle type over another," he said.
Listen to Morris' summary of the focus group findings at NEC.
RFANEC23 presentation Phillip Morris, Partner, Locust Street Group (40:19)