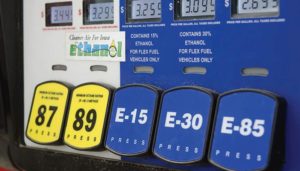 Legislation that would allow the year-round, nationwide sale of ethanol blends higher than 10% was reintroduced in both the House and Senate this week.
Sens. Deb Fischer (R-NE) and Amy Klobuchar (D-MN) led the reintroduction in the Senate of the Consumer and Fuel Retailer Choice Act this week, as Reps. Adrian Smith (R-NE), Angie Craig (D-MN) and Rep. Dusty Johnson (R-SD) did the same in the House.
The legislation not only has bipartisan and bicameral support, it also has support from a wide mix of stakeholders, including the National Corn Growers Association, Renewable Fuels Association, American Coalition for Ethanol (ACE), and the American Petroleum Institute.
"This commonsense legislation is supported by a broad and diverse coalition, ranging from farmers to filling stations and from ethanol producers to petroleum companies," said RFA President and CEO Geoff Cooper. "We all agree that American drivers need access to lower-cost, lower-carbon E15 at the pump every day of the year and across this country. With the summer driving season right around the corner, we call on Congress to move quickly and adopt this legislation as soon as possible."
"Securing national and permanent market access for E15 year-round is best done through Congress," said ACE CEO Brian Jennings "ACE members look forward to fostering support for this legislation during our annual fly-in at the end of the month. Given the urgency to ensure uninterrupted market access for 2023, ACE is pushing for immediate action via emergency waivers, passage of this legislation and other options to unleash the cost-saving benefits of E15 this summer."
Original Senate supporters of the bill include: Senators John Thune (R-S.D.), Pete Ricketts (R-Neb.), Tammy Baldwin (D-Wis.), Chuck Grassley (R-Iowa), Tina Smith (D-Minn.), Kevin Cramer (R-N.D.), Debbie Stabenow (D-Mich.), Mike Rounds (R-S.D.), Tammy Duckworth (D-Ill.), Jerry Moran (R-Kan.), Dick Durbin (D-Ill.), Roger Marshall (R-Kan.), Sherrod Brown (D-Ohio), Joni Ernst (R-Iowa), and John Hoeven (R-N.D.).
Original House supporters of the bill include: Representatives Mariannette Miller-Meeks (R-Iowa), Marcy Kaptur (D-Ohio), Dan Kildee (D-Mich.), Sam Graves (R-Miss.), Mike Flood (R-Neb.), Don Bacon (R-Neb.), Jake LaTurner (R-Kan.), Mike Bost (R-Ill.), Blaine Luetkemeyer (R-Miss.), Randy Feenstra (R-Iowa), Andre Carson (D-Ind.), Michelle Fischbach (R-Minn.), Ashley Hinson (R-Iowa), Darin LaHood (R-Ill.), and Zach Nunn (R-Iowa).