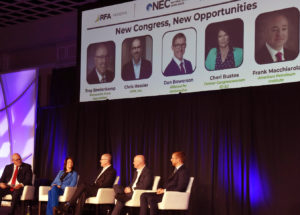 There are almost 100 new Members in the 118th Congress this year, which provides obvious challenges for biofuels interests, but also some opportunities.
At the 2023 National Ethanol Conference, D.C. insiders provided an outlook for the new Congress and discussed the potential for legislation focused on transportation fuels during the New Congress, New Opportunities panel moderated by Troy Bredenkamp, Senior VP, Government & Public Affairs for the Renewable Fuels Association.
The panel featured Chris Hessler, Founding Partner, AJW, Inc.; Dan Bowerson, Senior Director, Energy & Environment, Alliance for Automotive Innovation; Frank Macchiarola, Senior Vice President of Policy, Economics, and Regulatory Affairs, American Petroleum Institute; and just recently former Rep. Cheri Bustos (D-IL), Retired.
RFANEC23 New Congress panel
(46:00)
Bustos was the architect of the Next Generation Fuels Act when she was in Congress and she says there is still a chance for the legislation, which is being sponsored by Reps. Angie Craig (D-MN) and Mariannette Miller-Meeks (R-IA) and Sens. Amy Klobuchar(D-MN) and Chuck Grassley (R-IA). "We have the right people supporting it," said Bustos. "Those are the four leaders and they're the right people…they understand it and they're passionate about it. But we still have a very divided Congress."
Interview with Cheri Bustos, former U.S. Representative from Illinois
RFANEC23 interview with Cheri Bustos, former IL Rep. (9:02)