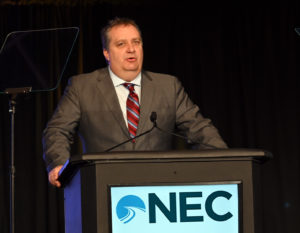 Renewable Fuels Association chair Erik Huschitt CEO of Badger State Ethanol, is excited about the renewed enthusiasm he saw for the industry at the National Ethanol Conference last week in Orlando.
"I couldn't be more proud to be part of this organization and industry," said Huschitt at the conclusion of the conference. "This is the heart and soul of the country."
Huschitt moderated one of the final panels of the conference "Putting the 'U' in CCUS" on carbon utilization options for biorefineries that cannot access carbon sequestration.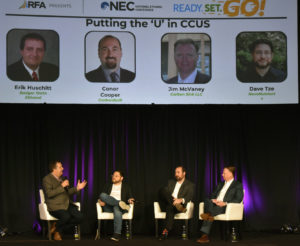 "Ethanol has always been so much more," he said. "Biogenic CO2 made from the ethanol plant can be utilized to replace concrete, it can be used to grow proteins that can feed and fuel the world…it's limitless."
Joining Huschitt on the panel were: Conor Cooper, Head of Business Development, CarbonBuilt; Jim McVaney, Chief Commercial Officer, Head of Communications & Strategic Partnerships,Carbon Sink LLC; Dave Tze, CEO, NovoNutrients.
NEC23 CCUS Panel
(42:16)
Below, listen to Huschitt's welcome remarks and interview.
NEC23 welcome remarks, Erik Huschitt, RFA Chair
(5:07)
Interview with RFA Chair Erik Huschitt, Badger State Ethanol
NEC23 Interview with RFA Chair Erik Huschitt (3:28)
Click here for more audio and photos from the National Ethanol Conference.