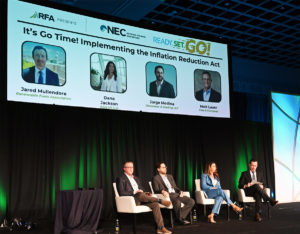 The Inflation Reduction Act passed by Congress has been called the most important piece of legislation for the future of the ethanol industry since the Renewable Fuel Standard, but as the Renewable Fuels Association notes, the devil is in the details so getting implementation right is critical for the industry.
The National Ethanol Conference this week featured a panel of experts discuss how the bill's energy tax incentives, infrastructure grants, and other provisions will be implemented in the years ahead. Moderated by Jared Mullendore, RFA Director, Government Affairs, the panel included:
Dana Jackson, Partner, RSM US LLP; Jorge Medina, Partner & Head of Renewables, Shearman & Sterling LLP; Matt Lauer, VP of Carbon Capture, Utilization & Storage, Foss & Company.
Listen to the entire panel here:
RFANEC23 Implementing the IRA panel (41:58)