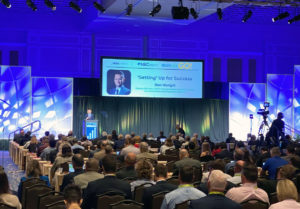 Just as the Environmental Protection Agency's Deputy Director for Office of Transportation and Air Quality was addressing the Renewable Fuels Association National Ethanol Conference in Orlando, EPA finally released its proposed rule in response to the request from eight Midwest states for removal of the national gasoline volatility waiver to allow year-round sales of E-15 ethanol.
The proposal states, "After review of the modeling results presented by the governors in their requests, EPA is proposing to remove the 1-psi waiver in the following states: Illinois, Iowa, Minnesota, Missouri, Nebraska, Ohio, South Dakota, and Wisconsin."
However, as EPA's Ben Hengst the rule proposes to have an effective date of April 2024, next year's driving season. "We are going to have a public comment process, we will have a public hearing…we will request comment on multiple aspects of the rule, including the effective date."
Hengst's comments on the proposed rule come at the end of his remarks.
RFANEC 23 Remarks, Ben Hengst, EPA
(22:22)