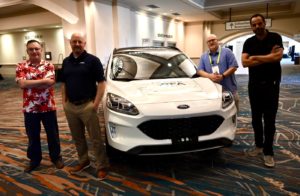 The weather in Orlando this week is in the 80s and the forecast for a great Renewable Fuels Association National Ethanol Conference is even better.
"We have over 750 registered and a full golf outing today, so it's going to be a good time and also a very informative time," said Troy Bredenkamp, RFA Senior VP, Government & Public Affairs.
Bredenkamp joined the annual golf tournament this morning while others went on a popular outing into the headwaters of the Florida Everglades to see gators and other wildlife from an airboat. Tonight is the welcome reception and tomorrow the real business begins.
Listen to an interview with Troy here:
RFANEC 23 interview with Troy Bredenkamp, RFA Government & Public Affairs (2:41)
2023 National Ethanol Conference Photo Album
2023 National Ethanol Conference Golf Tournament Photo Album