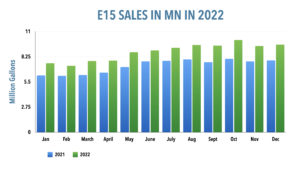 The Minnesota Bio-Fuels Association reports that annual sales of E15 fuel in Minnesota topped 100 million gallons last year for the first time ever.
According to data from the Minnesota Department of Commerce, 105.47 million gallons of E15 were sold in 2022, 21 percent more than the previous record of 87.11 million gallons sold in 2021.
"The record E15 sales last year reported by the Minnesota Department of Commerce demonstrate that when consumers go to the pump they want a cheaper, more environmentally friendly option. E15 provides that option and we need our state and federal policymakers to double down on biofuel infrastructure investments and summertime regulatory relief so that its benefits are available to consumers year-round and at every gas station in the state," said Brian Werner, executive director at the Minnesota Bio-Fuels Association.
Meanwhile, E85 sales in Minnesota in 2022 totaled 15.38 million gallons, based on data from the Minnesota Department of Revenue, a 28 percent increase from the volume of E85 sold in the state in 2021.