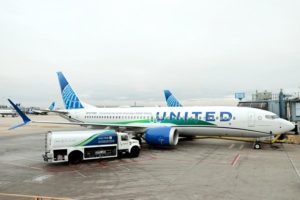 United Airlines, Tallgrass, and Green Plains have announced a new joint venture called Blue Blade Energy to develop and commercialize a novel Sustainable Aviation Fuel (SAF) technology using ethanol as its feedstock.
If the technology is successful, Blue Blade is expected to proceed with the construction of a pilot facility in 2024, followed by a full-scale facility that could begin commercial operations by 2028. The offtake agreement could provide for enough SAF to fly more than 50,000 flights annually between United's hub airports in Chicago and Denver, assuming current regulations requiring SAF to be blended with conventional jet fuel are removed to allow for the use of unblended SAF.
United, Tallgrass, and Green Plains will each provide their unique industry expertise to help develop the joint venture. Under this collaborative approach Tallgrass will manage research and development of the technology, including pilot plant development, and will manage the construction of the production facility. Green Plains will supply the low-carbon ethanol feedstock, and use its ethanol industry expertise to manage operations once the pilot facility is constructed. United Airlines will assist with SAF development, fuel certification and into-wing logistics, and has also agreed to purchase up to 2.7 billion gallons of SAF produced from the joint venture.
If the technology is commercialized, the location of Blue Blade's initial plant would allow easy access to low-carbon feedstock from Green Plains' Midwest ethanol production facilities. While the initial SAF facility intends to use ethanol, the technology has the capability to work with any alcohol-based feedstock as its fuel source.
"Our transformation to a true decarbonized biorefinery model has positioned Green Plains to help our customers and partners reduce the carbon intensity of their products by producing low-carbon proteins, oils, sugars and now decarbonized ethanol to be used in SAF," said Todd Becker, President and CEO of Green Plains. "This partnership with world class organizations like United Airlines and Tallgrass, shows the value creation that is possible with our low-carbon platform. The potential impact of this project is a gamechanger for US agriculture, aligning a strong farm economy and a robust aviation transport industry focused on decarbonizing our skies."