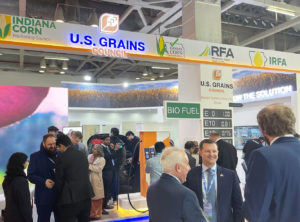 The U.S. ethanol industry was in the spotlight last week at the India Auto Expo in New Delhi which featured an Ethanol Pavilion for the first time. The Society of Indian Automobile Manufacturers (SIAM), the nation's auto manufacturers organization, has partnered with the U.S. Grains Council to help support the implementation of ethanol across the country.
The Grains Council, along with the Renewable Fuels Association (RFA), American Coalition for Ethanol (ACE), Growth Energy, Iowa RFA, and the Indiana and Kansas Corn growers represented the industry at the Expo. RFA Vice President of Regulatory Affairs Kelly Davis gave a presentation on the U.S. industry at the International Conference on Sustainable Mobility at the Auto Show. ACE Chief Marketing Officer Ron Lamberty joined the U.S. Grains Council (USGC) at the India Auto Expo last week, Asia's largest automotive show, to promote ethanol implementation across the country. Lamberty was also invited to speak about the U.S. experience in a session about how biofuels are a boon for the Indian sustainability roadmap.
"India has an air quality emergency and is following the science which shows the best and fastest way to improve air quality is to add more ethanol," Lamberty said. "They've gone from almost zero ethanol to 10 percent in only a few years and have a goal of 20 percent nationwide by 2025."
Lamberty praised the efforts to promote ethanol at the Auto Expo. "The USGC staff put together a massive, attention-grabbing trade show display space that attracted a lot of people, and provided information about how ethanol is made, how it gets to stations, the equipment used to sell it, and even an FFV converted by eFlexFuel," he said.
India recently achieved an ethanol fuel blending target of 10 percent ahead of schedule, a milestone on its way to reaching E20 by 2025. Last week, the Council also opened a new office and signed a memorandum of understanding (MOU) to promote higher ethanol blending in India.