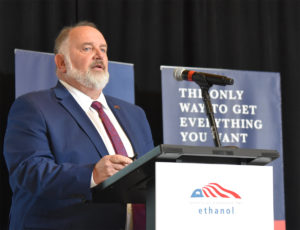 In written comments submitted this week, American Coalition for Ethanol (ACE) Chief Marketing Officer Ron Lamberty provided expert feedback with the Rural Business-Cooperative Service (RBCS) and the Rural Utilities Service (RUS) on implementation of funds for biofuel infrastructure under the Inflation Reduction Act (IRA). The legislation provides for $500 million in grants for infrastructure for blending, storing, supplying, or distributing biofuels and may provide a federal share at up to 75% of the total project cost.
Lamberty's comments centered around 1) how to ensure funds are more accessible to small retail marketers and incentivize conversions beyond those directly funded, and 2) how progress can be measured to meet greenhouse gas (GHG) reduction goals when expanding infrastructure for renewable, clean biofuels.
Previous HBIIP grants have been awarded mainly to large retailers and Lamberty points out while those chains have added hundreds of E15 locations, they own and operate nearly 10,000 stations, and appear to be converting only locations for which they've received grants. Lamberty says small retailers are not following the big chains' example because they are used to seeing large retailers offering products they don't offer and often assume competitors have those products because they're better funded. "To the contrary, when small retailers get funds and build or convert sites to become the first in their market to offer higher blends, the new fuels become part of the station's identity, and historically, the larger chains add the same fuels to regain market share, using their own money," Lamberty said.