The Renewable Fuels Association is leading the charge on a national and global basis to spotlight ethanol's carbon reduction benefits and how it can play an even greater role going forward in the fight against climate change.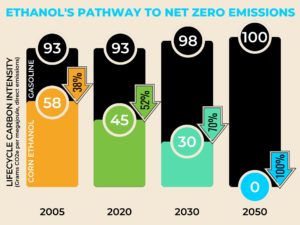 As leaders from around the world are gathering in Egypt for the 2022 United Nations Climate Change Conference, better known as COP27, RFA sent the simple message that ethanol is a low-carbon renewable fuel available today to help meet climate goals and it's well on its way to net-zero carbon emissions.
RFA also released an updated one-page fact sheet about ethanol's carbon benefits. "It is our hope that U.S. policymakers ensure ethanol and other renewable fuels are an important part of the discussions at COP27," said RFA President and CEO Geoff Cooper. "More and more national capitals across the globe are rightfully looking at the value of renewables like ethanol to sustainably fuel their vehicles and power their green economies."
Meanwhile, RFA laid out the ethanol industry's priorities in separate comments and testimony to the U.S. Department of Treasury, Internal Revenue Service and the U.S. Department of Agriculture as the agencies prepare to implement the Inflation Reduction Act's renewable energy tax and grant programs.
"The energy provisions in the Inflation Reduction Act represent the most significant federal commitment to low-carbon biofuels since the Renewable Fuel Standard was expanded by Congress in 2007," said Cooper. "If implemented correctly, the IRA's clean energy measures will stimulate unprecedented investment and decarbonization in the ethanol sector. But if the federal government gets implementation wrong, it will be an enormous missed opportunity for ethanol and other renewable fuels to play a leading role in the fight against climate change."