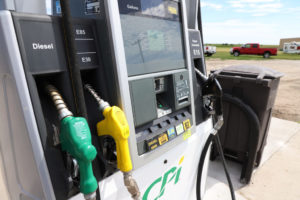 The Environmental Protection Agency (EPA) has approved the continuation of ground-breaking research being done in Nebraska on the long-term adaptability and feasibility of E30 fuel.
Results of the State's initial pilot program, launched in 2019, showed that E30 is safe and reliable fuel for use in conventional vehicles. Under EPA current guidelines, only flex fuel vehicles (FFVs) can use ethanol blends higher than E15, but the State intends to underscore its initial findings in order to support regulatory change to make E30 accessible to all drivers.
"Promoting higher ethanol blends should be a centerpiece of our national strategy to lower gas prices," said Gov. Pete Ricketts. "Nebraska has already demonstrated that E30 can be used in regular vehicles without reducing performance or requiring extra maintenance. With our expanded study, we'll be in an even stronger position to advocate regulatory change to make E30 accessible to everyone."
Nebraska Ethanol Board executive director Reid Wagner said, "Through the first phase, we found a few parameters we want to look at closer to provide a more robust demonstration of the performance of ethanol. The E30 demonstration is academically and scientifically grounded and will be a key driver in continuing our efforts to show ethanol's superiority in performance, cost, and health versus gasoline."
The second phase of the E30 demonstration will begin in the fall 2022 and include up to 825 State vehicles. While further demonstrating the safety and reliability of E30, the State will also significantly reduce its fuel costs and carbon footprint through the program.