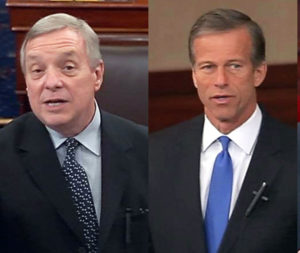 Senators John Thune (R-SD) and Dick Durbin (D-IL) this week led a bipartisan group of colleagues in a letter urging the Environmental Protection Agency (EPA) to establish renewable volume obligations that are additive for all fuel types in the upcoming "set" rule under the Renewable Fuel Standard (RFS). The senators also highlighted additional actions EPA should take in order to maximize the use and benefit of biofuels, including updating lifecycle analysis for biofuel emissions and approving additional fuel registrations and pathways under the RFS.
"We request that EPA take supportive actions to provide regulatory certainty and afford new opportunities for these homegrown fuels to deepen their contribution to America's evolving energy landscape," said the senators in the letter to EPA Administrator Michael Regan. "Through this rulemaking, EPA has a historic opportunity to not only reinforce its efforts to restore integrity to the RFS, but chart a new course for biofuels that will help meet America's diverse energy demands while further decarbonizing numerous sectors of our economy."
Biofuels organizations thanked the senators for their support of the RFS.
"With the forthcoming 'set' rule, EPA has a golden opportunity to stimulate further growth in low-carbon fuel use and build on the successes of the Renewable Fuel Standard," said Geoff Cooper, president and CEO of the Renewable Fuels Association. "We appreciate the efforts of Senator Thune, Senator Durbin, and other stalwart renewable fuel supporters to ensure EPA issues a 'set' rule that furthers the environmental and economic objectives of the original RFS program."
"As we near EPA's announcement on the proposed Set rule, ACE applauds Senators Thune and Durbin for their leadership on a timely, bipartisan letter urging the Agency to utilize this historic opportunity to increase biofuel blending targets and take other important steps to leverage the role low carbon biofuels can and should play to address our nation's energy demands and meet the Administration's decarbonization goals," said Brian Jennings, CEO of American Coalition for Ethanol. "New incentives enacted by Congress will boost investments in clean fuel technologies that support action by EPA to expand the use of clean fuels like ethanol through future RFS targets."
"We thank Senators Thune, Durbin, and others for highlighting the bipartisan support for continued growth in the Renewable Fuel Standard volumes," said Kurt Kovarik, vice president of Federal Affairs for Clean Fuels Alliance America. "We appreciate the Senators' request that EPA build on the foundation of advanced biofuels and provide additional space for emerging volumes of renewable diesel, sustainable aviation fuel, and other potential new biomass-based fuels."
The letter was also signed by Sens. Tammy Baldwin (D-Wis.), Sherrod Brown (D-Ohio), Tammy Duckworth (D-Ill.), Joni Ernst (R-Iowa), Deb Fischer (R-Neb.), Chuck Grassley (R-Iowa), Amy Klobuchar (D-Minn.), Roger Marshall (R-Kan.), Gary Peters (D-Mich.), Mike Rounds (R-S.D.), and Tina Smith (D-Minn.).