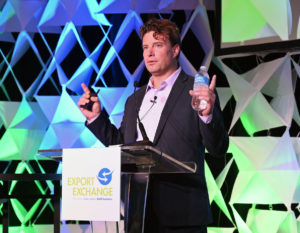 Consistent and uncertain were the two words Matthew Fitzthum with CHS, Inc. used to describe the market for dried distillers grains with solubles (DDGS) right now.
Fitzthum, who is Co-Products Commodity Trading Manager at CHS Inc and serves as chair of the Renewable Fuels Association co-products committee, spoke at last week's Export Exchange. "We consistently make about the same amount of distillers year in and year out, seasonally adjusted," he said. "We're also consistent in how much we export. Just about 45 percent of our distillers produced on an annual basis goes into the export market."
When it comes to uncertainty, Fitzthum talked about coming competition in the feed market from renewable diesel co-products, transportation concerns, and what bans on GMO corn could mean down the road.
CHS Inc. markets DDGS for over 20 production facilities, ship bulk DDG from the Gulf of Mexico at their elevator in Myrtle Grove, are key suppliers to the North American market via truck and rail shipments, and supply containerized DDGS to a global customer base.
Listen to Fitzthum's remarks here:
Export Exchange - Matt Fitzthum, CHS 22:33