Export Exchange 2022 had a full day of sessions and networking on Thursday in Minneapolis.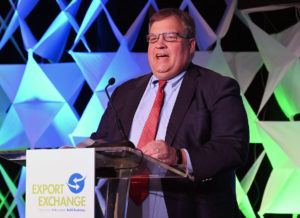 The first general session featured Minnesota Ag Commissioner Thom Petersen and USDA Acting Deputy Under Secretary for Trade and Foreign Ag Relations Jason Hafemeister.
Petersen spoke about the importance of global trade at the state level, noting how Minnesota established an office in Taiwan that recently helped secure the sale of $2.7 billion in corn and soy products to that country. "We've built some great relationships, we had some delegations here over the past few weeks, Peru, Colombia, the Philippines," he said. "I think that's really opened up doors and I can see the value of these discussions around trade."
Listen to his remarks here:
Export Exchange - Thom Petersen, MN Commissioner of Agriculture 14:20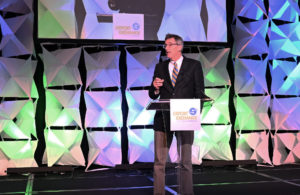 Hafemeister spoke of the how innovations have increased crop yields and how the global trade map has shifted over the last several decades. He also noted the positive trends for exports of both ethanol and the feed co-product DDGS.
"The has been a good year for ethanol. Just in the first six months we are closing in on our 2021 export level," said Hafemeister. As for DDGS, he says, "We are the world champion supplier. If you're looking for DDGS, this is the market to come to and we're a little above schedule (on exports) from last year."
Listen to Hafemeister's remarks here:
Export Exchange - Jason Hafemeister, USDA 31:35
Export Exchange, which is co-sponsored by the Renewable Fuels Association, offers international attendees the opportunity to meet and build relationships with domestic suppliers of corn, distiller's dried grains with solubles (DDGS), sorghum, barley and other commodities. The biannual event ends today and the next one will be in 2024.