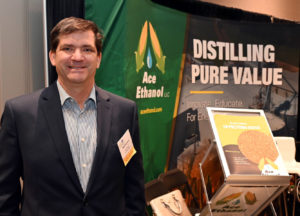 High protein distiller's dried grains with solubles (DDGS) is in high demand in some parts of the world and ACE Ethanol is meeting up with potential customers this week at the 2022 Export Exchange in Minneapolis.
"We actually have a cellulosic ethanol process and the result of that process is a higher protein distillers grain that's about 38-40 percent protein," said Neal Kemmet, President and General Manager of Ace Ethanol in Stanley, Wisconsin and Fox River Valley Ethanol in Oshkosh, Wisconsin. "We're seeing a lot of interest in Asia specifically but also some interest in Mexico. There's just an amazing amount of traffic flow at the booth."
Kemmet is a board member of the Renewable Fuels Association which has co-sponsored the Export Exchange since it first began under that name in 2010.
Listen to Neal's interview here.
Export Exchange interview with Neal Kemmet, ACE Ethanol 2:24