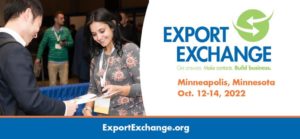 More than 200 international customers from 50 countries and nearly 300 domestic suppliers of grains and co-products, including distiller's dried grains with solubles (DDGS), are arriving in Minneapolis this week for Export Exchange 2022, the first time the event has been held since 2018.
The event is co-sponsored by the Renewable Fuels Association and RFA President and CEO Geoff Cooper says they have a great program lined up. "This event is important not only for its networking and sales opportunities, but also as an educational opportunity for participants to learn more about the high quality and value of U.S. farm and biorefinery products, as is clearly shown by the reach of our exports. American-made distiller's grains were exported to more than 50 countries on six continents in 2021."
Export Exchange facilitates meetings between the international buyers and U.S. suppliers so prospective customers can ask questions about this year's U.S. corn crop and suppliers can explain the benefits of the world's greatest agricultural supply chain. In addition, more than 20 pre- and post-Export Exchange tours have been arranged through the U.S. Grains Council for trade teams from around the world to visit various corn-growing states to get a firsthand look at corn harvest, stopping by ethanol plants to see DDGS production, exploring port facilities and more.
"At a time when international trade should be championed by our country's leaders, Export Exchange is critical for our industry," said Ryan LeGrand, USGC president and CEO. "It is essential for us to strengthen the bonds between suppliers and partner countries, and the connections made will not only help propel our industry this year, but for years to come."
Get a preview of what is happening later this week in Minneapolis in this recent podcast featuring LeGrand and RFA's Kelly Davis.
Ethanol Report previews Export Exchange
(15:11)