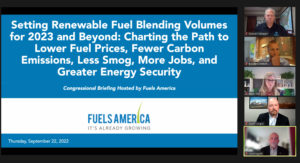 Fuels America held a webinar briefing with industry stakeholders Thursday about the future of the Renewable Fuel Standard.
Under the Renewable Fuel Standard (RFS) program in the Clean Air Act, the Environmental Protection Agency (EPA) sets annual biofuel blending requirements in accordance with volumes determined by Congress through 2022. After 2022, in a rulemaking commonly referred to as "The Set," the EPA is required to establish volume requirements for 2023 and beyond according to a specific set of factors in the law. Under a consent decree in the matter of Growth Energy v. U.S. Environmental Protection Agency, EPA is required to propose volumes for 2023 no later than November 16, 2022 and finalize them no later than June 14, 2023.
The briefing included comments from Brooke Coleman, Advanced Biofuels Business Council; Emily Skor, Growth Energy; Jon Doggett, National Corn Growers Association; Geoff Cooper, Renewable Fuels Association; and Donnell Rehagen, Clean Fuels Alliance America.
Cooper said RFA believes a strong SET rule could do much to further carbon intensity reduction efforts. "The RFS is the only statutory program on the books today that requires fuel decarbonization," said Cooper. "So we believe EPA really has an opportunity to double down on the authority to decarbonize fuels under the RFS."
Rehagen concentrated more on the biomass-based diesel side of the industry – biodiesel, renewable diesel and sustainable aviation fuels. "Beyond the carbon benefits, we are very proud of the fact that we are having some very positive benefits on human health as well," he said. "Particulate matter is an increasingly significant factor in declining human health and our fuels bring a significant reduction in particulate matter."
Listen to the briefing here:
Fuels America briefing 58:44