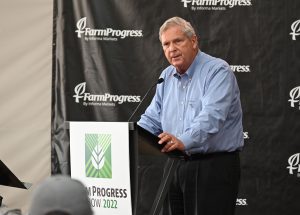 Secretary of Agriculture Tom Vilsack visited the Farm Progress Show in Iowa Tuesday, the first time he has visited the show since 2012.
Vilsack used the occasion to talk about some recent accomplishments, including expanding rural broadband, conservation and biofuel provisions in the Inflation Reduction Act, new opportunities to improve nutrient management, an organic transition initiative, and $100 million in funding for higher biofuel blends infrastructure.
"We're going to help over 1000 locations across the country – 600 storage tanks, 5000 dispensers, E15, E85. It really increases the opportunities there," said Vilsack.
Listen to Vilsack's remarks with questions from Max Armstrong and Jacqui Fatka with Farm Progress.
FPS22 Sec. Tom Vilsack (29:31)