The American Coalition for Ethanol (ACE) welcomed this week's news that the application period is now open for latest round of USDA's Higher Blends Infrastructure Incentive Program (HBIIP), which will provide $100 million in grants to pay up to 50 percent of the cost of equipment for station owners to add or upgrade to sell higher ethanol blends like E15 and E85.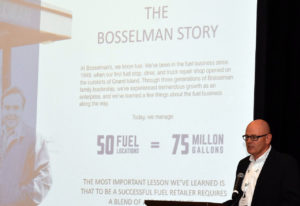 Marketing higher blends was a big focus at the recent ACE Conference in Omaha, where they held a pre-conference retailers workshop, as well as retailer panel featuring Randy Gard, Bosselman Enterprises, and Jeff Wilkerson, Pearson Fuels.
Bosselman owns Pump & Pantry™ hometown convenience stores with locations throughout the state of Nebraska featuring quality Boss Fuel™ ethanol blends. "Simply put, we love ethanol at the retail level," said Gard, who explained how Bosselman started with higher blends in 2016.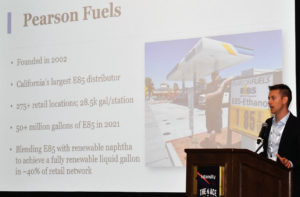 Pearson Fuels became a pioneer in the alternative fuel industry in 2002 and is the largest and fastest growing distributor of E85 in the state of California. "In a state like California, gasoline is on borrowed time, but California knows they still need liquid fuel," said Wilkerson. With state regulations calling for lower and lower carbon intensity scores, he sees great potential for ethanol in the future.
ACE Chief Marketing Officer Ron Lamberty says they are gearing up to help other retailers sell higher blends with this new round of funding. "We'll again promote USDA's biofuel infrastructure program with paid advertising, a new round of video tutorials we plan to film with the USDA HBIIP manager, and by helping retailers across the country submit applications."
Listen to Gard and Wilkerson during the retailer panel at the recent ACE Conference.
ACE22 remarks Randy Gard and Jeff Wilkerson (25:58)
Listen to Ron Lamberty's industry update from ACE
ACE22 Ron Lemberty remarks (14:17)