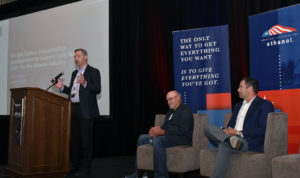 As Congress was passing sweeping legislation last week with provisions targeted on reducing greenhouse gas emissions, the American Coalition for Ethanol was holding its annual conference focused on ethanol's role in turning down carbon intensity.
ACE CEO Brian Jennings says the Inflation Reduction Act "recognizes the role farmers and biofuel producers can play in reducing greenhouse gas emissions and validates the work ACE has put forth to position corn ethanol as a meaningful part of the climate solution."
Among several sessions focused on carbon reduction, the final panel at the ACE conference offered more insight into the world of carbon sequestration strategies to achieve GHG reductions and provide significant return on investment for low carbon producers.
ACE Board Member and farmer Ron Alverson moderated the panel with Jim Pirolli, Chief Commercial Officer, Summit Carbon Solutions and Scott Rennie, CEO, Vault 44.01.
ACE22 remarks Jim Pirolli, Summit Carbon Solutions
(23:57)
ACE22 remarks Scott Rennie, Vault 44.01
(23:05)