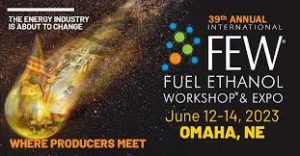 BBI International has announced that the 39th Fuel Ethanol Workshop & Expo (FEW) will take place June 10-12, 2023 at the CHI Health Center in Omaha, Nebraska.
"We are thrilled to be bringing the FEW back to Omaha for the first time since 2018," says John Nelson, vice president, sales & marketing for Ethanol Producer Magazine. "Our 2018 FEW was one of the largest FEW conferences we've had in a decade, making it the perfect location for the 2023 FEW."
The website for the 2023 International Fuel Ethanol Workshop & Expo is now LIVE online.