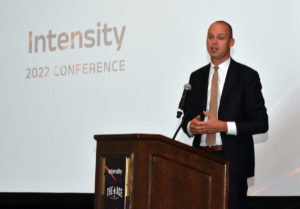 Rod Snyder, Senior Advisor for Agriculture at the U.S. Environmental Protection Agency, was a keynote speaker for the 35th American Coalition for Ethanol annual conference Friday in Omaha to provide an update on the role of biofuels in forthcoming EPA actions.
Regarding year-round sales of E15 (15% ethanol), Snyder says EPA recognizes the importance of higher level ethanol blends and is working with eight Midwest governors who have submitted requests under the Clean Air Act to allow sales under a state by state basis. "We are taking steps to promulgate a run as quickly as possible," said Snyder. "Our intent remains to finalize this action before the 2023 summer driving season."
Snyder talks about some of the biofuels provisions included in the Inflation Reduction Act, including $500 million to expand blender pumps and infrastructure, extension of the biodiesel tax credit, and incentives for sustainable aviation fuel.
ACE22 remarks - Rod Snyder, EPA
(27:46)