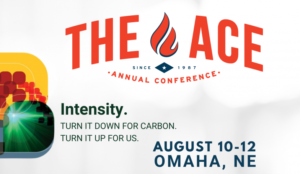 The American Coalition for Ethanol (ACE) 35th annual conference gets underway today in Omaha with a pre-conference workshop for retailers and the welcome reception to get ready for two days of non-stop industry information.
Thursday morning starts off with a welcome from Nebraska Governor Pete Ricketts, followed by updates from ACE leadership. Panels on farm-to-biofuel carbon market opportunities and retailer opportunities for higher blends set the stage for the most important topic discussions.
Thursday afternoon breakout sessions are split into three tracks: Leadership & Management, Technology, and Carbon. The breakout sessions will be held concurrently in three rounds following the morning general session panels.
Friday's general session begins with a timely panel on new uses and markets emerging for ethanol producers, including opportunities in the sustainable aviation fuel (SAF), hydrogen and heavy-duty transportation sectors – areas which are supported in the recent budget reconciliation bill, the Inflation Reduction Act.
Next up, EPA's Senior Advisor for Agriculture Rod Snyder will provide a biofuels update from the agency. Prior to this role, Snyder served as president of Field to Market: The Alliance for Sustainable Agriculture, which is the largest multi-stakeholder initiative working to advance the sustainability of commodity crop farming in the U.S.
Ryan LeGrand, President and CEO of the U.S. Grains Council (USGC), will address the current export market situation for U.S. ethanol and distillers grains.
Wrapping it up Friday morning will be a highly anticipated session on carbon capture pathways to help ethanol achieve net zero or even net negative emissions and will discuss ACE's new carbon intensity (CI) calculator.
Registration is still available on site and in case you missed it, here is a preview of the conference from ACE Vice President of Public Affairs Katie Muckenhirn.
ACE conference preview Katie Muckenhirn (5:00)
Keep up with all the action at The ACE on the virtual newsroom – and watch for Facebook Live coverage of the general sessions on the ACE Facebook page.