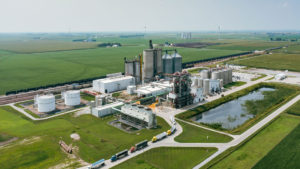 The Nebraska ethanol industry produced over 2.25 billion gallons in 2019, resulting in a value of production for ethanol and co-products of greater than $4.04 billion, according to a new University of Nebraska–Lincoln study estimating the industry's impact in 2018 and 2019. The overall economic impact of the Nebraska ethanol industry is over $4.5 billion.
"Nebraska's ethanol industry remains an important market in Nebraska, trailing only corn and cattle," said Kate Brooks, associate professor in the Department of Agricultural Economics and a co-author of the study. "While the industry experienced weakened ethanol prices in 2018 and 2019, it has shown resilience through continued expansion in total capacity and diversification of co-products."
According to the study, Nebraska continues to rank as the second-largest ethanol-producing state in the nation. The overall value of ethanol and ethanol co-products averages 64% of corn production, 33% of cattle production and 131% of soybean production, making ethanol the third-largest agricultural industry in the state.
Read the full report, which was produced by the Department of Agricultural Economics at Nebraska, in partnership with the Nebraska Ethanol Board.