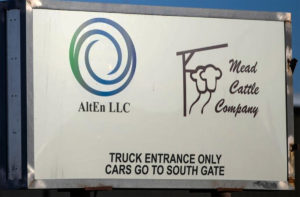 Daugherty Water for Food Institute (DWFI) researchers have been studying possible effects from the AltEn ethanol plant in Mead, Nebraska, which shut down last year after leaked contaminated wastewater was found.
Researchers recently presented to a group of Mead community members at a Mead Town Hall session. The team is particularly concerned with neurotoxins from the neonicotinoids produced by the plant, which is being sued by the state of Nebraska.
A survey on perceived health impacts has been sent to 1,000 people in the surrounding community, and so far about 400 responses have been received. Anyone who has lived or worked near the contamination from the AltEn plant or its solid or liquid waste is encouraged to fill out the survey. In addition to homes, the research team is also sampling the water, soil, air and small animals.