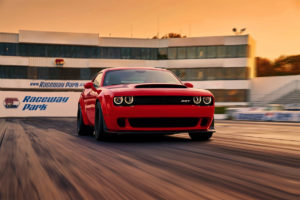 Rumor has it that Dodge is developing a new Challenger that runs on 85% ethanol and could be a contender for the most powerful muscle car of the internal combustion era.
Dodge started a campaign last November called "Never Lift" that is unveiling new versions of the Challenger through next year, leading up to the launch of its first all-electric muscle car. As each new announcement is made, a garage door opens on the 24 Months of Muscle calendar, each door having an icon on it to tease what's coming next. The next two closed doors feature a pair of hands and a tire swing, and after than is a moonshine jug, a good hint that it might have something to do with ethanol.
The rumor is causing some excitement among gear heads because it could result in the most powerful muscle car ever, more powerful than the 840-horsepower 2018 Challenger SRT Demon which was engineered to be able to run on a mix of 100+ octane and premium unleaded fuels. Insiders anticipate the engine could push upwards of 850 hp and the car will be a limited-edition Challenger SRT Hellcat Redeye Widebody.