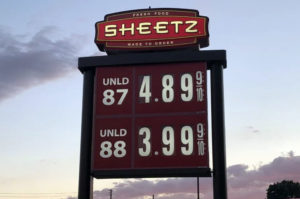 Pennsylvania-based restaurant and convenience chain Sheetz is making national news this week for selling higher ethanol blends at a discount for the Independence Day holiday weekend.
The chain announced Monday it was helping to reduce pain at the pump for consumers by reducing the price of fuel to $3.99 a gallon for Unleaded 88, or E15, and $3.49 a gallon for E85 through the July 4th holiday travel season and the story has gone nationwide. CEO Travis Sheetz has been on local TV stations and national news networks, explaining what Unleaded 88 and E85 are and what type of vehicles can use them.
The company operates over 640 store locations throughout Pennsylvania, West Virginia, Virginia, Maryland, Ohio and North Carolina.