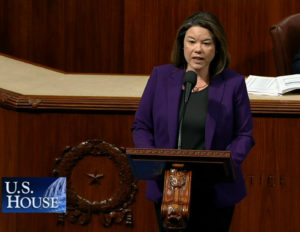 The U.S. House of Representatives today passed the Lower Food and Fuel Costs Act, a diverse package of initiatives from meat packing plants to year round E15, despite opposition by the majority of Republicans.
The legislation includes two bills by Rep. Angie Craig (D-MN) – the Year-Round Fuel Choice Act and the Strengthening the Agriculture and Food Supply Chain Act. "Every day, Americans are calling on their elected leaders to take decisive action to combat surging prices at the checkout line and at the pump. And today, we responded to that call by passing a major bipartisan bill to ensure the accessibility of affordable, homegrown American biofuels and to shore up the American food supply chain," said Rep. Craig.
Listen to Craig's remarks on the House floor in support of the legislation.
House Food and Fuel bill - Rep. Angie Craig 2:00
The seven Republicans who voted for the bill were all from major biofuels producing states – Don Bacon of Nebraska; Randy Feenstra, Mariannette Miller-Meeks, and Ashley Hinson of Iowa; Adam Kinzinger of Illinois, Vicky Hartzler of Missouri, and Dusty Johnson of South Dakota. But the debate heard some lawmakers outside the Midwest advocating for greater use of biofuels to lower gas prices, like Rep. Frank Pallone of New Jersey, who stressed the environmental benefits of ethanol in addition to the cost savings for consumers. "It's a win-win across the board and one of the most powerful tools in our fight against global price shocks," said Pallone. "E15 is also a cleaner fuel option that emits less carbon pollution and burns cleaner and is part of a broader effort to bring down prices while also cutting climate pollution."
Listen to Pallone's remarks on the House floor in support of the legislation.
House Food and Fuel bill - Rep. Frank Pallone 2:52
Ethanol groups welcomed the biofuels portion of the bill which includes a permanent legislative fix for the summertime Reid Vapor Pressure waiver, extending the 1-psi waiver to blends of ten percent "or more." The draft also includes $200 million in additional funding for higher blends infrastructure. "By expanding the availability of cleaner, more-affordable ethanol blends, this legislation will help deliver immediate economic relief to American families who are feeling unprecedented pain at the pump," said Renewable Fuels Association President and CEO Geoff Cooper.
American Coalition for Ethanol (ACE) CEO Brian Jennings thanked Representatives Angie Craig, Cindy Axne and others for their support. "Ensuring uninterrupted access to E15 is not only an urgent priority for our industry, but the best way to make an immediate positive difference at the pump and in reducing tailpipe emissions," said Jennings.