Two ethanol industry veterans were recognized for their service and commitment to the biofuels industry this week at the International Fuel Ethanol Workshop & Expo (FEW), taking place in Minneapolis.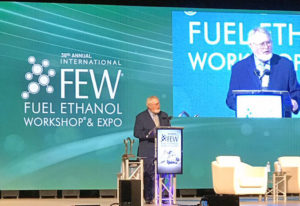 Randall Doyal, the recently retired CEO of Claremont, Minnesota-based Al-Corn Clean Fuel, received the 2022 FEW High Octane Award for his vision, leadership and advocacy.
Doyal began his career in 1982, taking a job at a small 1 MMgy ethanol plant in Portales, New Mexico, near his hometown. Not knowing anything about ethanol production—as an aspiring minister and carpenter—he took a job in the plant and ended up turning the opportunity into a lifelong career. After a decade of foundational experience in Portales, Doyal accepted a management position at Al-Corn Clean Fuel in 1995, relocating his family in Claremont, Minnesota. The plant was only 10 MMgy when he arrived, but expanded incrementally over the years to 50 MMgy before a major expansion in 2017 took the facility up to 130 MMgy. In addition to managing the plant and its many expansions over nearly 30 years, Doyal was also a founding member of the Renewable Products Marketing Group, better known as RPMG, a marketing cooperative that now represents 19 plants across seven states and is one of the country's leading ethanol marketing firms. He also served as chairman of the Renewable Fuels Association in 2015-2016 and has held other industry posts.
"Randy is one of the ethanol industry's true pioneers and has been a driving force behind many of the industry's policy and marketplace accomplishments over the past four decades," said Renewable Fuels Association President and CEO Geoff Cooper. Last year, Doyal was profiled as part of a series on RFA's 40th anniversary as one who was there at the beginning.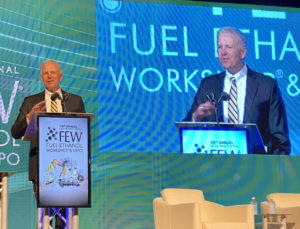 John Christianson, the founder and current director of Willmar, Minnesota-based Christianson PLLP, received the 2022 Award of Excellence for helping farmers and investors organize and grow the ethanol industry in its formative years.
Christianson, who grew up on a farm just a few miles from where he would start his renowned accounting firm, Christianson PLLP, also began his career knowing very little about ethanol. As a young certified public accountant in Willmar, Minnesota, in the early 1980s, Christianson gained experience and made important connections during the challenging farm crisis years. In the early '90s, he started working with a farmer co-op in Benson, Minnesota, helping with the formation of what would become the Chippewa Valley Ethanol Co. ethanol plant. Helping CVEC turned out to be a turning point. Christianson's involvement with ethanol rapidly took off, and his firm grew and expanded its services, eventually becoming a 90-plus person, full-service CPA and business advisory firm that it is today widely relied upon by ethanol producers. He and his team, listening to their clients, created new and innovative ways to help ethanol producers marry their financial and grain accounting systems. They created Intelego, an enterprise planning software now branded as Beyond, which is currently used in as many as 80 U.S. ethanol plants. His company was instrumental in developing dozens of ethanol plants during the construction boom of 2000's and is maybe most recognized for its Ethanol Plant Benchmarking program used throughout the U.S. ethanol industry. Christianson left his managing partner role at the firm to become a director in 2021. He is also a member of the Minnesota Governor's Biofuels Council and current board member of the American Coalition for Ethanol.