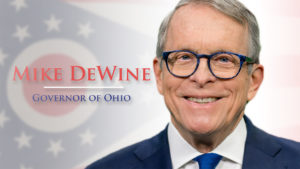 Ohio Governor Mike DeWine sent a letter Friday to Environmental Protection Agency Administrator Michael Regan asking that the agency permanently remove restrictions around the sale of 15 percent ethanol (E-15) fuel.
"E-15 offers Ohio consumers cleaner emissions, more fuel from renewable sources, and, perhaps most critically, a less expensive fuel option," said Governor DeWine. "By permanently removing unneeded summertime E-15 regulations, we can encourage more Ohio gas stations to offer E-15 and give Ohioans an option that provides real gas price relief."
Earlier this year, the U.S. EPA issued an emergency waiver for 2022, allowing for the sale of E-15 during the summer months when environmental regulations typically prohibit its use. Governor DeWine is requesting that the summer waiver become permanent beginning in the summer of 2023.
Renewable Fuels Association President and CEO Geoff Cooper thanked Gov. DeWine for joining eight governors from Iowa, Illinois, Kansas, Minnesota, Nebraska, North Dakota, South Dakota and Wisconsin that took a similar action earlier this year.
"Gov. DeWine should be applauded for pursuing a simple regulatory solution that will allow consumers in Ohio to benefit from E15's lower cost and lower emissions throughout the year," said Cooper. "We continue to call on other states and the EPA to take similar action, so that the benefits of E15 can be permanently enjoyed by drivers across the nation."
The E15 blend currently provides drivers savings of up to 40 cents a gallon or more, compared to regular unleaded E10 gasoline. Cooper also highlighted recent research from refining sector experts that showed the action sought by the governors would impact gasoline production costs by just 1.5 cents per gallon or less in the Midwest.