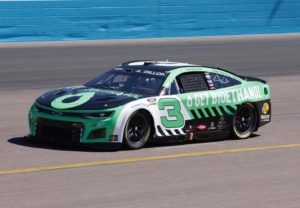 NASCAR drivers have driven 20 million E15 miles on the track while regular drivers have logged more than 30 billion miles off the track on the 15% ethanol blend fuel, according to Growth Energy.
E15 is currently available at more than 2600 stations in 31 states and is offering drivers a lower priced alternative fuel with rising gas prices. E15 is approved for more than 96 percent of light duty vehicles, which account for 98 percent of all vehicle miles traveled in the United States. Even before the recent run-up in oil prices, it was estimated that nationwide access to E15 could save drivers $12.2 billion annually in fuel costs.
Sunoco Green E15 has powered NASCAR since 2011 and reduced greenhouse gas emissions by 20 percent across NASCAR's three national touring series while also increasing horsepower on the racetrack. To celebrate the 20 million mile mileston, Austin Dillon drive the No. 3 Get Bioethanol Chevrolet for Richard Childress Racing Sunday at the NASCAR Cup Series Enjoy Illinois 300 presented by TicketSmarter.