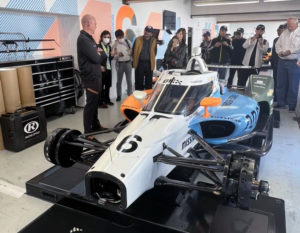 The U.S. Grains Council (USGC) in collaboration with the Indiana Corn Marketing Council, hosted delegations from Japan, South Korea, India and Indonesia at the recent Indianapolis 500 to see the role ethanol plays in the annual race.
Fourteen participants from Indonesia, Japan and Korea were in Illinois to gain on-the-ground experience including stops at farms, retail stations and ethanol plants.
In a similar fashion, a group of 11 participants from India's automobile trade, government and petroleum industry were in Missouri to get a better understanding of the U.S. ethanol value chain and the environmental, economic and health benefits ethanol presents. Discussions at the various facilities spanned across the technology of ethanol pumps, retail infrastructure and production capacity.
Upon arriving in Indiana, both groups had the opportunity to meet with several drivers competing in the race before taking part in an educational session on ethanol blending and its benefits. The group heard from several speakers during the session: ethanol distributors and retailers, an automotive repair shop and a race organizing agency. The presentations facilitated technical conversations about best practices for ethanol blending among participants from the various countries.