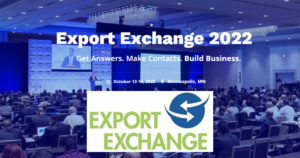 The Renewable Fuels Association, U.S. Grains Council (USGC) and Growth Energy are pleased to open registration for the first Export Exchange since 2018, scheduled for October 12-14, 2022, in Minneapolis.
The biennial event had to be cancelled due to COVID in 2020 and again in 2021 but this year the sponsoring organizations expect to bring together 200 international buyers and end-users of coarse grains and co-products, including distiller's dried grains with solubles (DDGS), with approximately 300 U.S. suppliers and agribusiness representatives.
"Export Exchange is uniquely focused on connecting international grain buyers with U.S. suppliers," said Chad Willis, USGC chairman and farmer from Minnesota. "We are excited to have members of the export industry join us and so many of our customers in Minneapolis this fall to learn the latest about U.S. exports and how to purchase."
Reported sales associated with the last Export Exchange in 2018 included approximately 1.3 million metric tons of grains and co-products worth $403 million traded either at the conference or immediately before or after.
"Over the past few decades, DDGS has evolved into an invaluable component of the global animal feed market. Today, one out of every three tons of DDGS produced in the United States is exported to customers around the world," said RFA President and CEO Geoff Cooper. "Export Exchange offers unparalleled opportunities for face-to-face engagement between U.S. producers and existing and potential DDGS customers."
Registration and more information is available at ExportExchange.org.