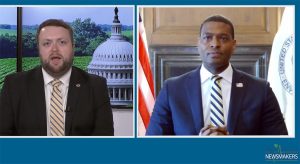 The latest episode of Agri-Pulse Newsmakers is out and the featured interview is with EPA Administrator Michael Regan.
EPA sent its proposed biofuel blending requirements under the Renewable Fuel Standard to the White House Office of Management and Budget for final review this week in an effort to get those finalized by June 3. Agri-Pulse host Spencer Chase asked Regan if biofuels groups will be pleased with the final result.
"We want to get the program back on track," said Regan. "So, yes, we believe the industry will see the strategy in getting the program back on track and looking at 2022 as that jump off point."
Asked what the agency would do going forward to keep the program on track, Regan said, "Doing what we are currently doing which is taking it more seriously than previous administrations ever have," said Regan. "We're already focused on 2023 and beyond."
Regan was also asked about a permanent fix for E15. Watch the whole interview below.
Newsmakers is also available as a podcast and/or you can sign up to get free access to Newsmakers.