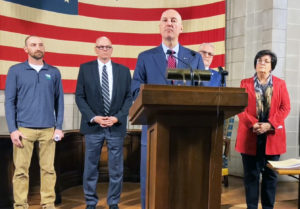 Nebraska Governor Pete Ricketts last week signed into law a bill that will provide incentives to retailers who sell higher blends of ethanol.
Gov. Ricketts says the legislation will help to grow Nebraska agriculture and attract investment in our rural communities. "Increasing the use of ethanol saves drivers money at the pump, cleans up our environment, and creates opportunities for our farmers and ranchers."
The legislation allows for a five cent credit on each gallon of E15 sold and 8 cents per gallon of E25 or higher blends sold, making ethanol more affordable for retailers who are helping keep fuel prices down for its patrons. Retailers can apply to the Nebraska Department of Revenue for the credits.
"At the retail level, very simply put, E15 is better fuel and it costs less," said Randy Gard, chief operating officer of Bosselman Enterprises and secretary of the Nebraska Ethanol Board. "We are excited about the passing of LB596 and what it can do for our customers. If you are a retailer, there is now nothing standing in your way today to make the transition from E10, the standard fuel most people use today, to joining this mass conversion to E15. There are incentives with LB596, there's consumer demand, there are certainly price pressures, and increased availability at the terminals. This is a win for everybody…retailers, legislators, farmers and ranchers, and especially users of ethanol who support Nebraska's economy, help the environment, and save money every time they fill up."
Listen to comments from Gov. Ricketts and Randy Gard at the bill signing ceremony.
Nebraska ethanol blends credit bill signing (8:15)