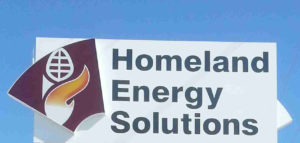 Homeland Energy Solutions in Lawler, Iowa recently reached the impressive milestone of 2 billion total gallons of ethanol production.
"Strong support from our board and a committed team have allowed us to enjoy continued success as we promote and support our efforts to fuel America with sustainable energy," said Mike Peterman, Plant Manager and COO. "I have been part of several successful ethanol plants during my career, but Homeland is the most efficient and well-run facility that I have been associated with."
The biorefinery began production in April 2009 and now has the capacity to produce 200 million gallons of ethanol per year from more than 66 million bushels of corn. Since its inception, Homeland Energy Solutions has delivered more than 4.6 million tons of dried distillers grains as animal feed, produced over 460 million pounds of corn oil and crushed more than 685 million bushels of corn.
Renewable Fuels Association (RFA) President and CEO Geoff Cooper congratulated Homeland Energy Solutions on the milestone.
"Everyone involved in the operation over the past 13 years should be very proud of the fact that Homeland has supported hundreds of jobs, added value to locally grown crops, and provided consumers with cleaner and more affordable fuels at the pump," said Cooper.