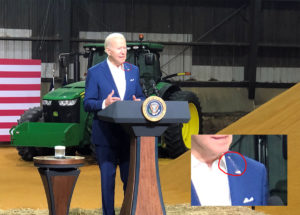 It turns out it was fake news that bird droppings hit President Joe Biden on the lapel during his appearance at an Iowa ethanol plant Tuesday. Instead of being a by-product of a bird, it was a co-product of an ethanol plant, the high protein animal feed known as distillers dried grain with solubles or DDGS.
Renewable Fuels Association President and CEO Geoff Cooper was an eyewitness in the distillers grains barn with President Biden and he confirmed it was definitely DDGS responsible for spotting the POTUS lapel. "We did see something falling from the ceiling and it landed right there on his lapel and I can confirm it was not a bird dropping," said Cooper, who took this photo at the event which shows the mound of DDGS off to Biden's left side and the spot on his jacket. It came just as President Biden started to talk about products made in America and the amount of corn used at the Menlo, Iowa POET plant.
The moment went viral when it was assumed the speck that suddenly appeared on the president's shoulder came from a bird and quickly overshadowed the purpose of the appearance, which was to announce an emergency waiver to allow summertime sales of E15. The Des Moines Register was first to report the actual culprit which has given some media outlets a chance to learn about distillers grains for the first time. Even Snopes has issued a fact check on the claim now and White House Communications Director Kate Bedingfield tweeted, "If you guys knew your way around a corn silo at all, you'd know it was corn."
Cooper says it provides a great opportunity for the ethanol industry to explain how each bushel of corn used in ethanol production generates about 17.4 pounds of DDGS to be used as feed for both dairy and beef cattle.
RFA CEO Geoff Cooper confirms DDGS on Biden lapel
(3:30)