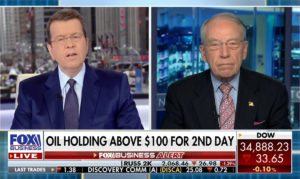 Sen. Chuck Grassley (R-IA) gave hope to the ethanol industry that sales of 15% ethanol blends may yet be able to continue in the summer months despite last year's devastating court ruling.
"The Biden administration is considering summertime sales of E15. Praise the Lord!" said the senator during his weekly call with agricultural reporters on Tuesday. "The president needs to act soon before this lower cost fuel option is halted by EPA."
Sen. Grassley also talked about joining Sens. John Thune (R-SD) and Amy Klobuchar (D-MN) this week in urging the Environmental Protection Agency (EPA) to update its greenhouse gas (GHG) modeling for biofuels and adopt the Argonne National Lab's GREET model.
Sen. Grassley talks E15 and GREET model
(6:07)
Grassley also had the opportunity to discuss E15 during an interview on Fox Business with Neil Cavuto, who seemed to be unaware that ethanol is already playing a large role in our nation's transportation fuel sector. "Already, at least 10% of the gasoline…used in the United States have ethanol mixed with it for the benefit of cleaning up the environment," said Grassley. "We can do a lot more through ethanol. Our plants aren't running at full scale. This administration, if they want to get down the price of gasoline, just move us from 10% of the ethanol in gasoline being mandated to not mandating it at 15% but give every opportunity to use 15% year-round."
Sen. Grassley talks ethanol on Fox Business
(2:04)