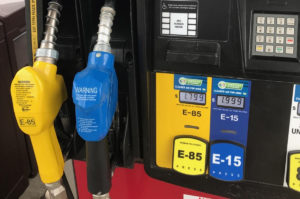 Sales of E15 (15% ethanol fuel) hit a record 814 million gallons in 2021, according to a new analysis from the Renewable Fuels Association.
The 2021 volume represents a 62 percent increase over 2020 and was nearly double pre-pandemic sales volumes in 2019. The analysis is based on recently released data for Minnesota and Iowa that show sales of E15 surged to record levels in 2021. Minnesota and Iowa account for nearly one-third of the retail stations in the United States offering E15.
RFA cites three likely factors leading to the record volume for 2021: an increase in the number of stations that offer the blend; the recovery in overall fuel consumption toward pre-pandemic levels starting in the late spring; and a rebound in the price of credits used to show compliance with the federal Renewable Fuel Standard.
However, the analysis notes that if summertime E15 sales are restricted again this year as they were prior to 2019, that growth in demand will slow at the same time the country is facing higher prices at the pump due to the continuing conflict in Ukraine. "Expanded use of ethanol in E15 could go a long way toward replacing the gasoline from Russian imports, but if restrictions on E15 return this summer as scheduled, sales could go into reverse, further tightening fuel supplies and putting upward pressure on gasoline prices."
Learn more in this interview with RFA VP of Industry Relations Robert White.
Interview with Robert White, RFA (1:13)