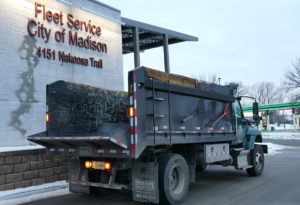 The City of Madison, Wisconsin will soon be seeing emissions reductions after 17 fleet vehicles have been converted to operate on 100% biodiesel, thanks to a partnership with Optimus Technologies and Renewable Energy Group.
Over the lifecycle of the fuel, biodiesel can reduce greenhouse gas emissions by up to 86% when compared with petroleum diesel. Utilizing Optimus Technologies proprietary Vector System, a simple vehicle add-on that works in conjunction with the conventional diesel components, fleets can operate on B100 year-round.
"Optimus' Vector System is in use in cities across the U.S. like Washington, D.C. and the City of Chicago where we're eliminating carbon emissions from critical public services such as refuse collection and snow removal," said Colin Huwyler, CEO of Optimus Technologies. "These applications require severe-duty trucks with the ability to perform in the harshest conditions without compromising reliability or performanc."
The City of Madison vehicles were installed with the Vector System at the end of last month, and will begin operating on B100 in the coming weeks. The 17 vehicles that were converted include three dump trucks, 12 garbage trucks, one 644kh loader and one wood grinder.