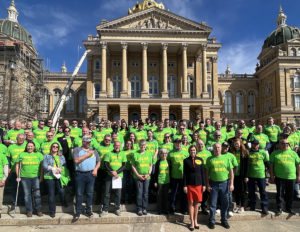 Over 200 Iowa biofuels supporters rallied at the Iowa State Capitol rotunda Wednesday to show support for the Iowa Biofuels Access Bill. The bill, proposed by Governor Kim Reynolds, would increase consumer access to higher biofuel blends including 20% biodiesel (B20) and E15 ethanol, as well as increasing infrastructure cost share for retailers.
Iowa Biodiesel Board executive director Grant Kimberley said the state legislators heard directly from farmers and other supporters about how important biofuels are to the state's economy and their livelihoods. "We need this legislation to lift up this vital industry and keep it thriving. Our country is at the beginning of an energy transformation, mostly driven by other states and also large corporations calling for low-carbon fuel. Iowa's answer to that call is biodiesel. If we want our state to participate in and capture the economic benefits of this new shift, we need to prioritize smart policy."
The bill passed the Iowa House last month by a strong bipartisan vote of 82 to 10 and is now pending in the Iowa Senate. Members of the Iowa Renewable Fuels Association, Iowa Corn Growers Association, and Iowa Soybean Association gathered to encourage the Senate to pass the bill.