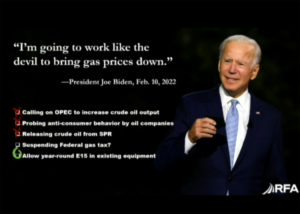 Biofuels advocates offered a response to President Joe Biden's first State of the Union address this week – use more ethanol.
Acknowledging that the situation in Ukraine was causing pain at the pump here at home, President Biden's solution was more oil. "I can announce the United States has worked with 30 other countries to release 60 million barrels of oil from reserves around the world. America will lead that effort, releasing 30 million barrels of our own Strategic Petroleum Reserve."
In a joint statement Wednesday, the Advanced Biofuels Business Council, American Farm Bureau Federation, Clean Fuels Alliance America, Growth Energy, National Farmers Union, and Renewable Fuels Association called on the president to unleash the power of ethanol.
"American-made biofuels are the only abundant, affordable, homegrown alternative to oil that can immediately extend the domestic supply of liquid fuels…Ethanol is trading at a steep discount compared to unblended gasoline, often 50 to 60 cents per gallon, and consumers are driving out of their way every day to capture the extra 15 cents or more per gallon savings on higher blends like E15."
Iowa Governor Kim Reynolds pointed out the importance of biofuels in her Republican SOTU response. "We're fighting to restore America's energy independence, including biofuels."
"While we appreciate President Biden's appeal to 'buy American,' it is disappointing the State of the Union address did not highlight how increasing the use of American-made ethanol is a cost-effective and low-carbon solution to simultaneously address urgent pocketbook, energy security, and climate concerns facing the U.S.," said American Coalition for Ethanol (ACE) CEO Brian Jennings.
Renewable Fuels Association (RFA) president and CEO Geoff Cooper wrote a response to the SOTU on the RFA Blog that echoes his State of the Industry address last week at the National Ethanol Conference. "More ethanol could easily be blended simply by the Biden administration supporting and allowing for year-round availability of E15. In fact, our nation's ethanol producers currently have enough excess production capacity to supply enough ethanol to entirely replace equivalently the amount of crude oil the U.S. currently imports from Russia."
In addition to maintaining market access for E15, ethanol industry leaders urge the administration to get the Renewable Fuel Standard back on track by denying all pending Small Refinery Exemptions and issuing strong renewable volume obligations (RVOs) for 2020, 2021 and 2022.