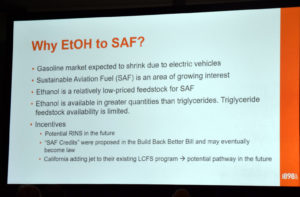 Sustainable aviation fuel is getting to be known by the ethanol industry as just "SAF" as it is being seen as a major opportunity for ethanol.
The 2022 National Ethanol Conference devoted a whole panel to the subject, including two SAF producers, Gevo and LanzaJet, which are using ethanol derived from crop residue and waste sources by Alcohol-to-Jet processing.
"Ethanol for us is a fantastic building block," said Lanzajet CEO Jimmy Samartzis. "We've been developing and commercializing our technology since 2010. In 2018 we received approval for the pathway for ethanol to jet."
Gevo's Tim Cesarek said for them ethanol's big advantage is that it is available today. "There's a call to action for product now," he said. "Utilizing corn to get to sustainable aviation fuel through ethanol routes allows us to get to market and scale quickly in a very cost effective way."
The NEC panel on SAF also included RFA president and CEO Geoff Cooper as moderator; William Collings, 1898; and Steve Csonka, Commercial Aviation Alternative Fuels Initiative (CAAFI).
NEC22 Sustainable Aviation Fuel panel
(1:19:36)