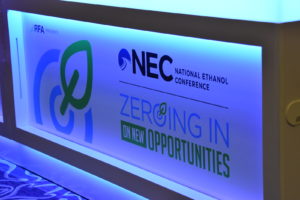 A pair of studies released this week in conjunction with the National Ethanol Conference this week in New Orleans show an industry that strongly rebounded in 2021 and is ready to move forward into a net-zero future.
Following up on a pledge by members of the Renewable Fuels Association to achieve average net-zero carbon emissions by 2050 or sooner, one report shows that new and emerging technologies and practices could help the industry achieve this vision well before mid-century. "Pathways to Net-Zero Ethanol: Scenarios for Ethanol Producers to Achieve Carbon Neutrality" by 2050, was prepared by lifecycle analysis expert Isaac Emery, Ph.D., of Informed Sustainability Consulting LLC. Altogether, the study identifies five distinct pathways to net-zero corn ethanol by 2050, based on a set of 28 emissions reduction actions that were considered.
Emery discussed the results of the study during a panel at the conference.
NEC22 Isaac Emery, Net Zero study (13:26)
The second study, conducted by ABF Economics, shows how the U.S. ethanol industry "recovered substantially" from pandemic conditions in 2021, with ethanol and gasoline use approaching pre-COVID-19 levels in the second half of the year. Due to the combination of resurgent demand and higher values for ethanol and co-products, the ethanol industry's contribution to U.S. gross domestic product (GDP) in 2021 was the second-highest ever.
In 2021, more than 73,000 U.S. jobs were directly associated with the ethanol industry, which supported an additional 334,200 indirect and induced jobs across all sectors of the economy. The industry created $28.7 billion in household income and contributed just over $52 billion to gross domestic product. Compared to 2020, this represented a 55 percent increase in income generated and a 50 percent increase in the contribution to GDP.
RFA Chief Economist Scott Richman summarizes the findings of the two studies in this interview.
RFA Economist Scott Richman (5:01)