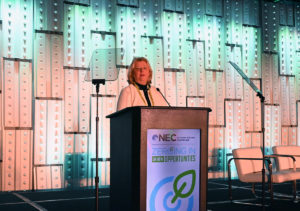 The first female chairperson of the Renewable Fuels Association has had a pretty quiet two year term, thanks to COVID, but Jeanne McCaherty of Guardian Energy is excited about the future.
"I'm more bullish on ethanol today than I have been in my entire career here at Guardian," said McCaherty at the National Ethanol Conference in New Orleans this week.
One reason McCaherty is so optimistic about the future is because of the new leadership she sees coming up in the industry's Young Professionals Network. "We are really pleased with that group," she said. "We have 140 professionals that have joined that group and that is our future."
As the first woman chairperson of the organization, McCaherty organized a brand new women's leadership group which met for the first time at the conference. "We got nearly 50 women who came so I consider that our founding group," she said.
Listen to McCaherty's address to the conference and interview below.
NEC22 RFA Chair Jeanne McCaherty welcome
(7:09)
NEC22 RFA Chair Jeanne McCaherty interview
(3:54)