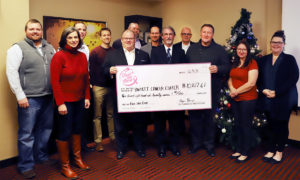 The Nebraska Corn Board, Nebraska Ethanol Board, and Renewable Fuels Nebraska joined together to raise almost $11,000 during the "Fuel the Cure" promotion last year in conjunction with retail stations.
During October, when drivers chose higher blends of ethanol fuel like E15, E30 and E85 at participating retail locations, gas stations donated 3 cents for each gallon sold, resulting in a total of $10,827 which was donated to the Fred & Pamela Buffett Cancer Center in Omaha. The promotion has now raised nearly $30,000 for cancer research over the past four years.
"Ethanol producers and sellers have been the biggest proponents of providing an environmentally friendlier way to power our vehicles for many years," said Jessica Sodeke, program manager for the Nebraska Ethanol Board. "We commend these retailers for making higher ethanol blends available and giving consumers a choice in the effort to reduce greenhouse gas pollution. Supporting 'Fuel the Cure' is a step beyond because the funds are directly impacting lives of patients at the Buffett Cancer Center."
Preparations are already underway for Fuel the Cure 2022 and Nebraska fuel retailers who sell higher ethanol blends are encouraged to join the effort by contacting the Nebraska Ethanol Board.