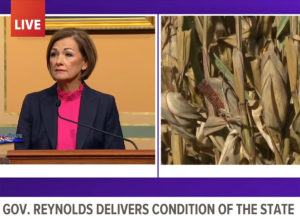 During her 2022 Condition of the State speech this week, Iowa Governor Kim Reynolds highlighted biofuels and her commitment to expand consumer access to E15 and B20 as one of her top priorities for this legislative session.
"I am introducing new legislation that will improve access to E15 and B20 and upgrade Iowa's fuel infrastructure to offer higher blends," said Reynolds. "And I'm proposing that we invest in carbon-capture solutions to sustain and build on our leadership position in renewable energy."
Iowa Gov. Reynolds
(1:59)
The Iowa Renewable Fuels Association noted two new studies showing the positive economic and health benefits if consumers were to transition to regularly using E15 instead of E10.
The studies conducted by national experts looked specifically at what the economic and environmental impacts would be from E15 replacing E10 as the most commonly purchased fuel in Iowa. Over 95% of vehicles on the road today are approved by the EPA to use E15. Key findings included saving consumers nearly $134 million at the pump each year, supporting almost 4,000 jobs, and reducing 258,894 tons of CO2 annually.
An economic impact study conducted by John Urbanchuk, ABF Economics, found consumers would realize nearly $134 million in savings at the pump. Dr. Steffen Mueller, Univ. of Illinois – Chicago, studied the health and environmental benefits and found Annually reduction in CO2 emissions by 258,894 tons.
Governor Reynolds will once again be addressing the Iowa Renewable Fuels Summit, coming up on January 25.