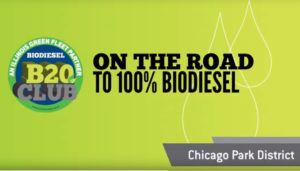 With winter weather already impacting many parts of the country, cities like Chicago are prepared with fleets powered by biodiesel blends throughout the winter months.
"Here in Chicago, winter temperatures can drop to well below zero and we need to be sure our diesel vehicles operate smoothly even in extreme weather conditions," said Mike Dimitroff, manager of the Department of Cultural & Natural Resources, Chicago Park District. "The Park District uses a B20 biodiesel blend to fuel heavy pick-ups, stake trucks, forestry trucks, tower trucks and more, all winter. We take a few precautions to ensure smooth operation, just like we would do with petroleum diesel, and have had no problems."
Since 2013, the Park District has powered its diesel vehicles and equipment with biodiesel blends, gradually increasing to an average year-round blend of 26% by 2020. The district uses biodiesel blends as high as 50% seasonally, in a variety of unmodified equipment ranging from lawnmowers to log loader trucks. In 2019, the Park District outfitted two refuse haulers with a biodiesel system made by Optimus Technologies to allow the use of 100% biodiesel, known as B100. The B100 fleet was recently expanded to include three bucket/tower trucks.
The Chicago Park District is a member of the B20 Club, a partnership between the Illinois Soybean Association and the American Lung Association which recognizes Illinois-based fleets committed to operating with biodiesel blends of 20% or higher.